Get the best from your data gathering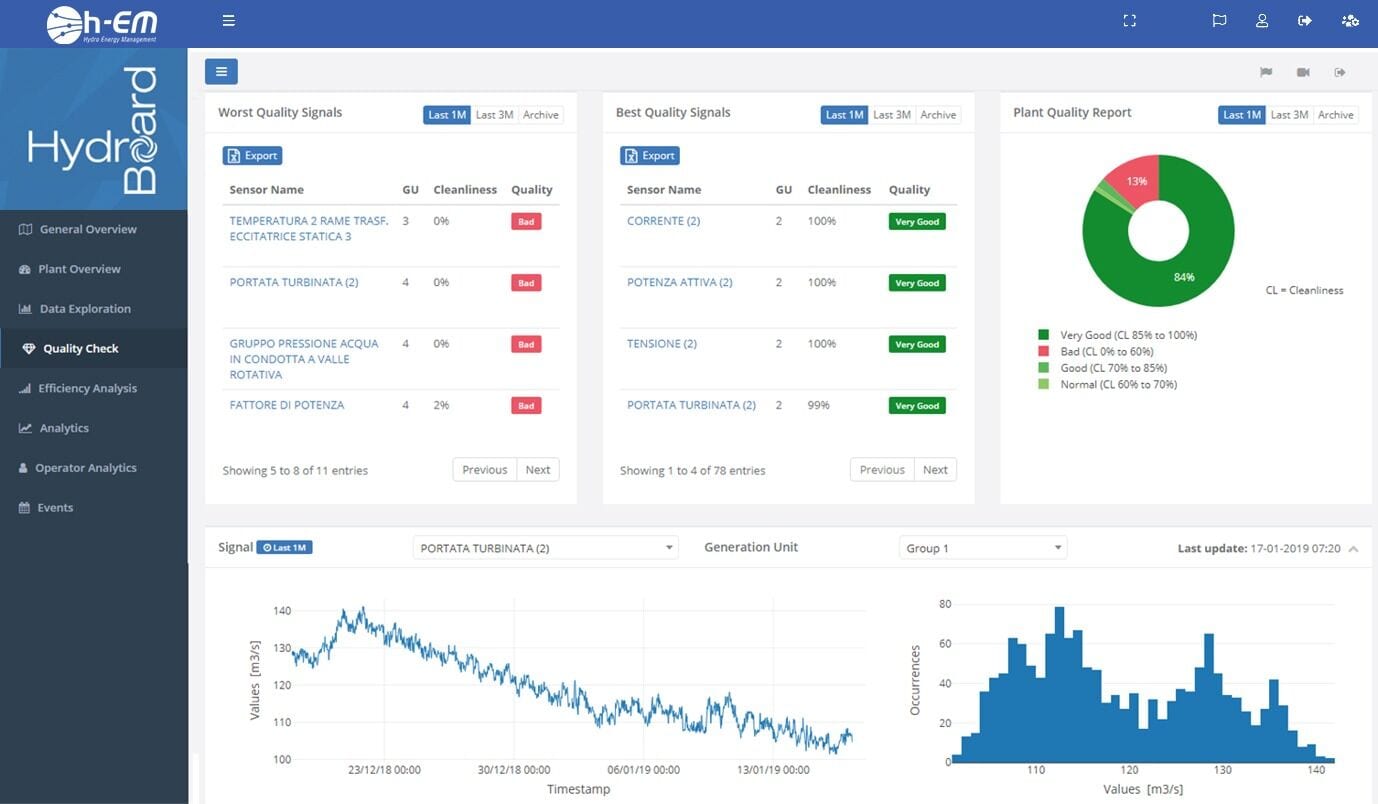 Our services enhance the capabilities of hydro assets, making possible to get optimal performance, by reducing production loss and improving O&M scheduling. Our software enables plant asset managers to create more value from data gathering, through big data analytics, Machine Learning and Artificial Intelligence techniques.
EFFICIENCY IMPROVEMENT
Detection of non-optimal operations and of their impact on energy production.
FAILURE ANTICIPATION
Early detection of faults, by identifying root causes in an autonomous way to minimize downtimes.
SENSORS ANALYSIS
Analysis of sensors behavior in order to identify anomalies in the transmission of information.
KNOW-HOW EMPOWERING
Smart sharing of knowledge about components and analyses among plants' operators.

Advanced digital condition monitoring
The true value from hydro fleets data gathering and analysis
Our software combines data gathering and big data analytics application obtaining the digitalization of sophisticated risk-based decision-making tools, to optimize near-term O&M asset management plants in order to maintain, overhaul or replacing the most critical components of the fleets. i-EM has developed, customized and trained advanced algorithms able to perform deep and multivariate analysis on plants data, in order to allow hydro O&M operators to take appropriate decisions and apply strategies to extract the best achievable value, exploiting all of the information contained in data themselves.
Goal:
Monitor the working efficiency of the plant and identify not-optimal periods or GUs management
Features:
4 different kind of scatter plots:
Efficiency VS water flow
Efficiency VS net head
3D plot: efficiency VS water flow VS net head
Efficiency VS water flow with reference to historical efficiency curves
Filter on regular and transient data
Analytics as a Service: output
Goal
Identify and predict anomalous condition on the plant, exploiting operators experience
Features
Customized signals selection as input of the multivariate statistical model (data quality results are indicated in order to select only the signals with the best quality)
Customized definition of training and test time period (real-time runs also available)
KPI visualization, warning indication and most critical signal detection for the test period
Comparison between measured variable and simulations from an ensemble of ML models
WANT TO KNOW MORE?
Contact us to receive further information or to ask specific questions about our solutions.
Our team will be happy to reply and get in touch with you as soon as possible.