☀EM-POWER Europe, June 13-14, 2023.
The unmissable appointment with the energy and the solar world is back at the Munich fair.
This edition i-EM will be in the ranks of the hall B5 – booth 452.
Also this year our CTO Ciro Lanzetta has been invited by smartEN to be a speaker to illustrate how the digital solutions proposed by i-EM can make a difference by increasing and optimizing the flexibility of the energy system.
The appointment with the dedicated talk session will be Friday, June 16 at 11.30 am.
Session Title: Distributed flexibility: towards an integrated district approach
Short description: The European energy system is becoming increasingly more complex to manage with the significant uptake of renewable and decentralised energy sources. With a system facing possible local congestion and over-investments at distribution level, new innovations are needed to shield the grid and protect consumers from increased price volatility. This session will explore innovation in local energy optimisation, a key feature for an efficient, participatory and clean power system. 
For the occasion, i-EM will be available with touch live demos on the platform for the Solar Energy Management and lunch the management of your entire system in the palm of your hand: It will be an application, self-consumption management at the forefront available to visitors in step with innovation.
To get the true value from your assets data under your complete control, wherever and whenever you are!
Greater investment is being channelled into renewable energy sources. Most notably, solar energy. Solar is clean, cost-effective, and much of the energy infrastructure required is readily available.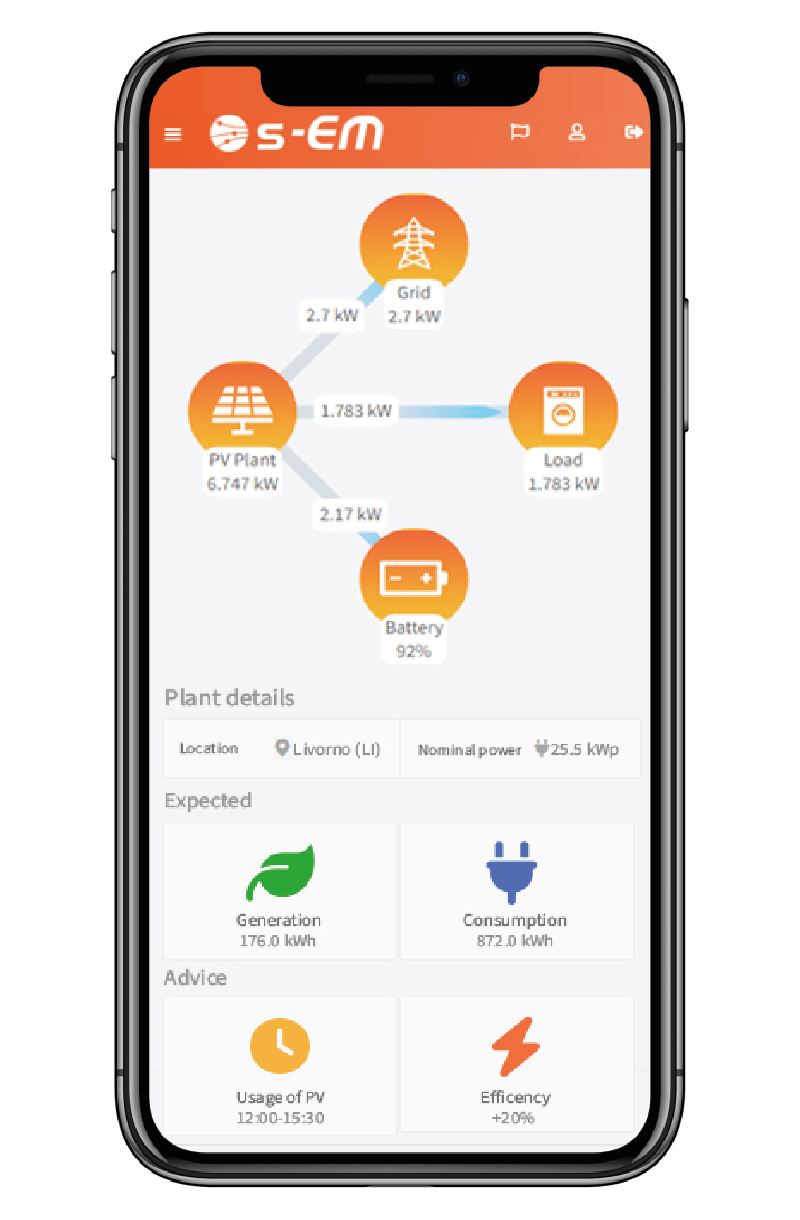 As solar energy systems become more popular, the demand for applications that help manage these systems has also increased. In particular, the application of i-EM allows users and organizations to monitor the performance of solar energy systems, monitor the production and consumption of energy.
✔ 4 features to optimize the use of your solar power plants
Visualization of the energy flow
Monitor and manage the system components behaviour
Expected outcomes forecats based on usage options
Advices on energy usage
Discover the i-EM mobile APP that provides advising for the best energy usage, allowing an easy visualization of the values and parameters of the battery, such as the state of charge (SOC), the cycles of charging/ disgorging.
Get the true value from your assets data.
Get the best value from solar assets data during the whole life-cycle plants phases and any role you play.   
s-EM enables Asset Owners, Asset Managers, O&M Operators , EPC contractors to access to different kinds of information according to their specific needs.